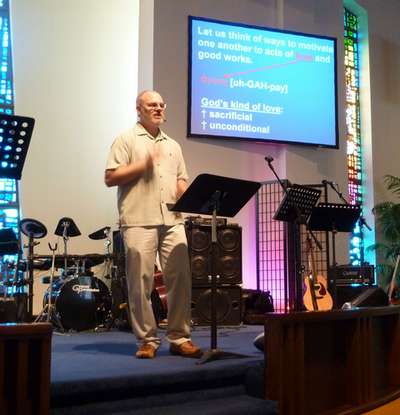 Preaching at Crossroads Church
2 Timothy 4.2 NLT: 2Ti 4.2 NLT: Preach the word of God. Be prepared, whether the time is favorable or not. Patiently correct, rebuke, and encourage your people with good teaching.
Ministry Resume [5 pages]
This resume is what I submit initially to a search committee. It briefly introduces who I am, with some material about my ministry vision, qualifications, experience, and family.
Ministry Priorities [1 page]

Great Commission Vision [1 page]

Leadership Summary [1 page]

Ministry Development Vision [1 page]

My SHAPE for ministry [2 pages]

Homiletics Philosophy [1 page]

Hermeneutics Philosophy [1 page]

Theology Summary [1 page]
This is brief; for more detail, see our foundations page on the beliefs menu.