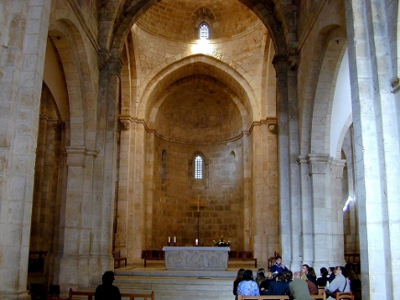 This is the interior of St. Anne's Church, in Jerusalem, near the pools of Bethesda. The church has wonderful acoustics. We sang several songs inside, and all the other tourists joined in and cheered afterward. This photo is from the collection "Pictorial Library of Bible Lands, volumes 1-10," © 2006 by Todd Bolen, BiblePlaces.com
Ephesians 1.22-23 NET: And God put all things under Christ's feet, and he gave him to the church as head over all things. Now the church is his body, the fullness of him who fills all in all.
Spirit Baptism, Water Baptism, and the Church [7 pages]
Exploring scripture to find the truth about Spirit baptism and water baptism, and how they relate to the believer and the church today.
Water Baptism Summary [1 page]
A few paragraphs to summarize the significance of water baptism for those considering that step of faith.
Are We Again Turning Away from Orthodoxy? [2 pages]
A short essay considering ways Evangelicalism seems to be repeating the mistakes of Liberalism of a century ago
Reaching the Postmodern World [2 pages]
A short essay exhorting the church to stay true to itself as it seeks to reach the next generation
Bible History Chart [1 page]
A graphical representation of the history of God's people
Church History Trends [1 page]
A chart showing how some doctrines changed over time