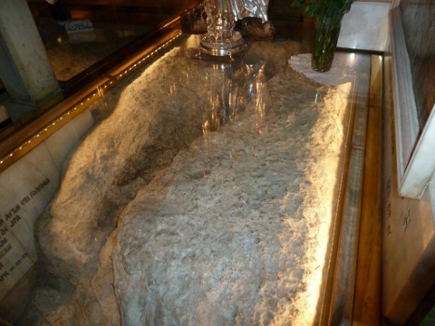 This rock is all that remains visible of the actual hill upon which sits the Church of the Holy Sepulchre, thought by most scholars to be the most likely place for the crucifixion of Jesus.
Theological Websites
Bible.org
RetroChristianity
Credo House Ministries
John 3.16 NET: For this is the way God loved the world: He gave his one and only Son, so that everyone who believes in him will not perish but have eternal life.
Easter 2014 [4 pages]
My Easter 2014 message: what we believe about Easter, why we can trust the New Testament account, and why it matters.
Easter 2015 [3 pages]
My Easter 2015 message: looking at the real Jesus and why he must be our source of hope. In the middle, we watched a video by my friend, Pastor Kit Bogan.
Christmas 2013 audio [7 minutes]
My Christmas Eve 2013 discussion. No script; I think I spoke without preparation.
Christmas 2014 [1 page]
My Christmas Eve 2014 discussion. A one page script, but nobody thought to record me.
Philippians 3 [7 pages]
An exposition of Philippians 3, explaining the gospel of imputed righteousness and how it results in spiritual growth. I used glasses of water and drops of soy sauce to illustrate sinfulness and imputed righteousness. If I were going through the book of Philippians, I would not do this whole chapter in one week. But I was asked to do it this way for one church, and God brought out such great response there that I have repeated it in other churches in the same format.